The social innovation foundation
Our mission
La France s'engage Foundation awards, promotes and supports social innovation initiatives, carried out by grassroots organizations and social enterprises, in France and abroad.
We scale up these local initiatives from local to national level. These have a proven impact and innovative solutions to societal issues. Our goal is for all of France to step up and play its part! We believe in the power of alliances between the public, private, and non-profit sectors.
What we do ?
The foundation runs a series of three call for projects and awards, through which it:
Awards and selects local, innovative initiatives which:

are run by non-profit organisations or social and solidarity economy enterprises;
deal with a social need or issue as outlined in the UN Sustainable Development Goals;
can be easily replicated elsewhere;
through rigorous and objective assessment, have proven to be of true social impact.

Awardees wins the label «La France s'engage» providing them with public backing when dealing with stakeholders and the general public.
Provides support and financial assistance to grassroots initiatives in taking their project to the next level whereby the locally-sourced solution serves a far greater purpose.
Evaluates the social impact of the projects we support.
Advocates, on behalf of innovative initiatives abroad and with local and national-level government agencies.
Joins the network of «La France s'engage» prize winners as a means to learn from each other's experiences.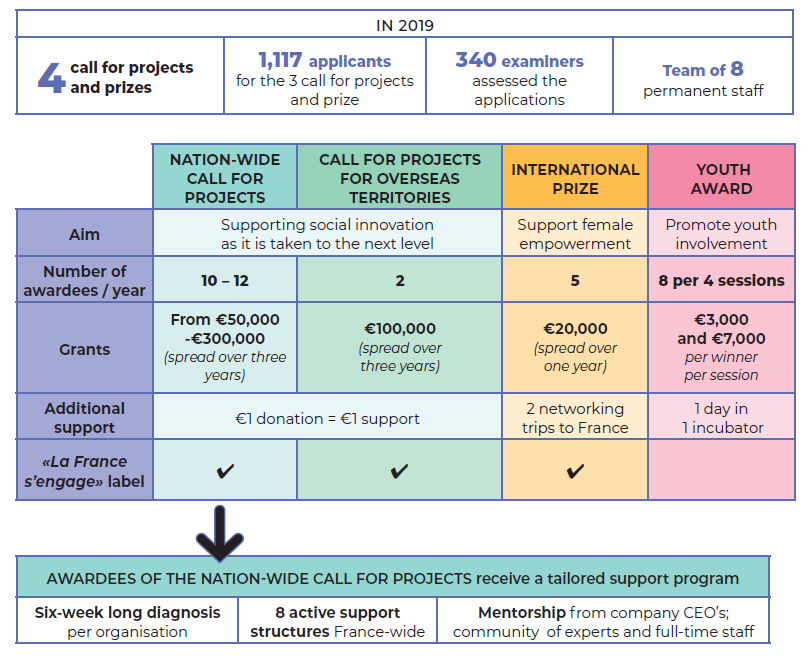 Who we are
La France s'engage is a foundation declared of public-interest in 2017 – the highest level of recognition in France. Its Board is comprised of four private company founders (Total Foundation, BNP Paribas, Andros, Artemis) and three government agencies (La Poste, Caisse des Depots and Agence francaise de developpement). The foundation also benefits of public funds. The Board of Directors is presided over by Francois Hollande, former French head of state.
The foundation has a five-year budget of €30 million for 2017-2022. The foundation is fundraising for its future work. A number of supporters have already provided funds and support to the foundation: AG2R La Mondiale, Accenture, Fondation Orange, and KPMG.
Since 2014, la France s'engage has impacted society with :